Awards

Awards
SDCA Awards
Guidelines for Nomination:
Any member can nominate.

Nominee must be a current member of SDCA and should be active in the local affiliate and/or SDCA.

The Cattleman or woman of the year will be chosen prior to the SDCA's Convention.
Friend of SDCA Award
Nomination Deadline: November 21, 2022

Guidelines for Nomination:
Any SDCA member can nominate.

Nominee must be an advocate for agriculture, locally or statewide. This award is for an agribusiness or media personality that has promoted agriculture, SDCA, and/or their local affiliate.

The Friend of SDCA award will be chosen prior to the SDCA's Convention.
Leopold Conservation Award
The Leopold Conservation Awards recognize landowners actively committed to a land ethic. Working with prominent state conservation partners, Sand County Foundation presents the award, which consists of $10,000 and a Leopold crystal, in settings that showcase the landowners' achievements among their peers.
Environmental Stewardship
The Environmental Stewardship Award has annually recognized the outstanding stewardship practices and conservation achievements of U.S. cattle producers from across the nation. Regional and national award winners have been commended for their commitment to protecting the environment and improving fish and wildlife habitats while operating profitable cattle operations. The common trait among all winners is the desire to leave the land in better shape for future generations while also inspiring the next generation of land stewards.
While the program highlights stewardship, it also provides fellow cattle producers with examples and ideas which may be useful on their own farm and ranching operations.
---
South Dakota Award Winners
Leopold Conservation Award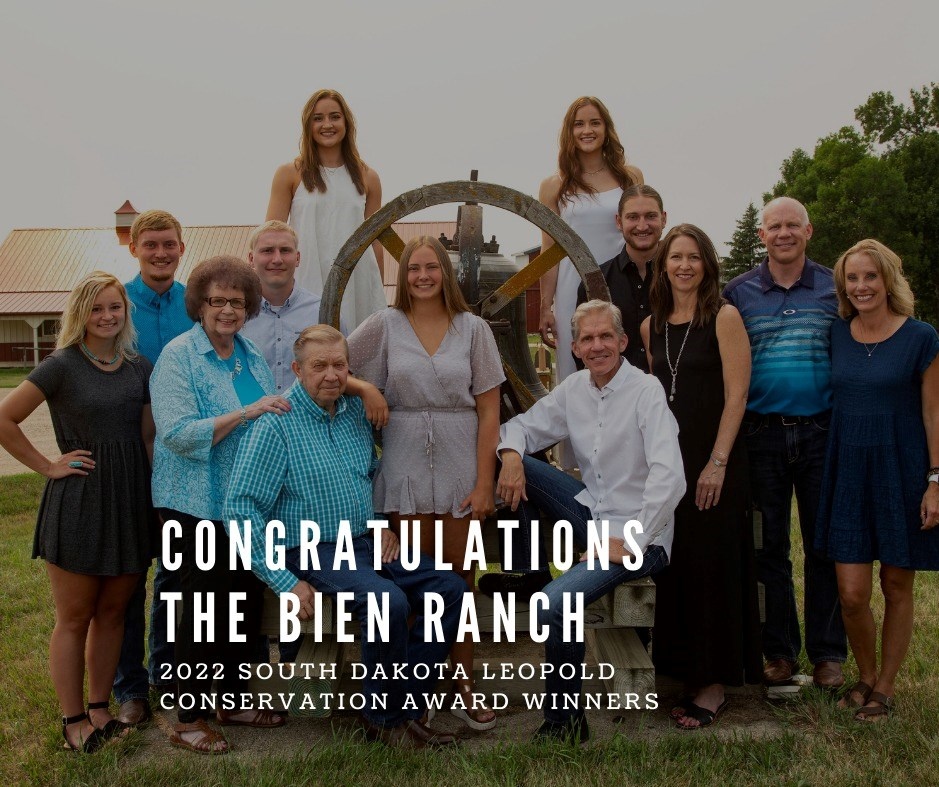 2022
The Bien Ranch
Veblen, South Dakota
Environmental Stewardship Award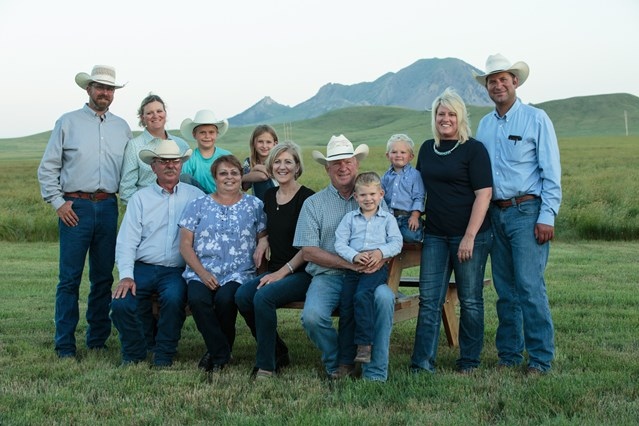 2021 Region VII
Blair Brothers Angus Ranch
2020 Region VII Johnson Farms, Frankfort, SD
2018 Region VII Moes Feedlot LLC -John & Donita Moes , Watertown SD
2015 Region VII Kopriva Angu s- Jim & Karen Kopriva; Lee Kopriva; Angela Kopriv Raymond SD
2014 Region VII Rock Hills Ranch- Lyle & Garnet Perman; Luke & Naomi Perman, Lowry SD
2012 Region VII Slovek Ranch, Bill Slovek - Philip SD
2011 Region VII Center of the Nation Cattle Company- Jeff & Kim Smeenk, Newell SD
2009 Region VII Daybreak Ranch- Jim Faulstich, Highmore SD
2001 Region VII Nagel Feedlots-John M Nagel, Owner-Springfield SD
2000 Region VII Cammack Ranch Supply-Gary Cammack, Union Center SD
1998 Region VII Jones Ranches-Ralph D Jones, Midland SD
1995 Region VII Clarence Mortenson, Pierre SD